Art Concrete: Andrew Goss
Combine metal, something we consider precious or valuable, with concrete, an inexpensive building material, and a door opens into an exploration of alternative materials in jewellery and art. It can also be a metaphor about what we really value. Briefly, that is what my concrete work is about.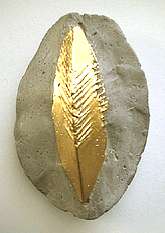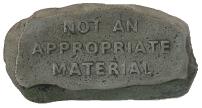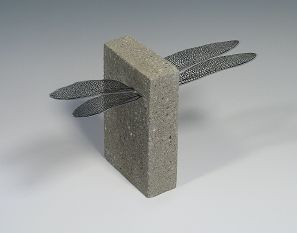 (Left) Pin: grey portland cement, gold leaf. 3 inches (7 cm) long. 1999.
(Centre) Pin: Not Appropriate Pin: concrete, 2" (5 cm) long. 2002.
(Right) Sculpture: Winged Concrete, 5.5" (14 cm) high, 2007.
See Gallery page for more images. ©Andrew Goss
Its origins can be found in my concerns as a jeweller and a metalworker about the element of preciousness. In the past this concern has led me into paper and plastic jewellery. Now it has led into concrete and portland cement.
This part of the Art Concrete website is an ongoing record or documentation of these developing ideas, a work in progress. It started in March, 1998. The original ideas and concepts are archived here.
Enter the gallery of my concrete work here.
Images from my most recent exhibition at David Kaye Gallery: Lift: Some Ideas About Concrete
Book: Concrete Handbook for Artists: Technical Notes for Small-scale Objects. More information?
~Andrew Goss
---
CONTACT + LEGAL
Andrew Goss
781 Second Avenue West, Owen Sound, Ont., N4K 4M2 Canada
Tel: (519)371-1857
Last update: January 2008. All work is protected under copyright.
I would like to acknowledge the Ontario Arts Council for their generous support in 2007.