Homepage
---
How To:
Technical
---
Guest Gallery:
Concrete Artists
---
Andrew Goss:
Concrete Work
---
Concrete Handbook
for Artists
Details
Feedback
Update
Order book?
—U.S.
—Canadian
—U.K.
—Overseas
—PDF Download

---
SITE MAP
Concrete Handbook for Artists
Technical Notes for Small-scale Objects
Andrew Goss
Information About the Book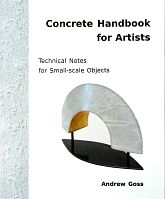 I developed this web site to share the information that I had learned about concrete. Countless people have emailed me with ideas, hints, questions and problems. I have compiled that information along with the information already on the web site, updated it and added to it to produce a book, first printed in 2002. The book was updated in 2006.
Price is $29.95 USD, $29.95 CAD or £16.95 GBP plus shipping.
You can also get a PDF digital copy of the book for $15 or £9.75.
ORDER THE BOOK?
For those of you who already have the book originally published in 2002, updates are available at the handbook update page.
From the introduction to the book:
In writing this book I have imagined the reader as a creative person, perhaps an artist, who would like to try concrete and needs technical information. I have tried to write the book that I wished I had when I started working in this extraordinary material.

Most of the engineering, research and practical development in this area has been done in the construction industry. Suppliers of basic materials and additives are geared to that market as well. Hopefully I have made some connections between these two worlds.

Concrete is a vast subject. My intent is to explain the theory and principles of concrete, to give you the tools to understand what is happening, rather than the details in making a particular object. The book is about working directly with concrete, not about casting multiples. I have also intentionally set limitations of scale: jewellery, sculpture and small functional objects. It will not cover large outdoor works, such as cast-in-place sculpture.

Beyond the basic principles of concrete, the book explains mixes and additives and how these mixes must be changed for different uses. It explains several methods of forming concrete. Most of the techniques and mixes I have tried, and for those I haven't I have given basic information from reputable sources along with leads for more research.
Table of Contents:

Preface
1 Definitions, 7
2 Technical: Concrete and Cement, 9
3 How-to: Introduction, 13
4 Hazards of Working in Concrete, 17
5 Materials: What to Use, 19
a Cement, 20
b Aggregates, 23
c Other Materials, 25
d Reinforcement, 29
e Colour and Finish, 32
f Premix, 35
6 Tools, 37
7 Mixes, 41
8 Setting (Hardening) and Curing, 49
9 Stresses and Strength, 53
10 Methods, 57
a Very Small Scale, 58
b Mesh: Step by Step, 65
c Casting: Simple Shapes, 75
d Surface Finishing, 83
11 Ciment Fondu (HAC), 87*
12 Gallery, 89
13 Environmental Concerns, 101
14 Troubleshooting, 103
Appendix, 107
a Sources of Supply, 108
b Books, 112
c Links on the Internet, 114
d MSDS, 121
e Glossary, 127
Index, 131
*brief introduction about ciment fondu
The book is 135 pages, 7.5" X 9", black and white photos and line drawings. Paperback binding (lay-flat). ISBN 0-9730223-0-2.
I appreciate that it's difficult to buy a book when you can't pick it up and flip through it to see what it's like. So I've embedded a window (on the left) courtesy of GoogleBooks which will allow you to see some of the book. Please note: if you click on "Buy this book" menu at the bottom of the window you will not be able to find it at Amazon or Chapters-Indigo. The third choice of "Goss Design" just brings you back to this site. But you can click on this link:



ORDER THE BOOK HERE
~Andrew Goss
---
---
CONTACT + LEGAL
Andrew Goss
26 Clarke Street East, Guelph, ON, N1H 1S7
Tel: 519.265.4057




Paypal Verfified Business