Homepage
---
How To:
Technical
---
Guest Gallery:
Concrete Artists
---
Andrew Goss:
Concrete Work
---
Concrete Handbook
for Artists
Details
Feedback
Update
Order book?
—U.S.
—Canadian
—U.K.
—Overseas
—PDF Download

---
SITE MAP
Concrete Handbook for Artists
Technical Notes for Small-scale Objects
Andrew Goss
If you would like to order the book, please choose from one of the following options, based on where you live: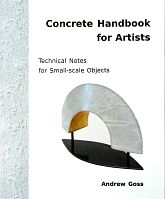 U.S.A.



Canada



United Kingdom



Overseas

Get a PDF digital copy of the book for $15.
If you want to read more about the book, please go back to the handbook page.

---
Information for booksellers?
---
CONTACT + LEGAL
Andrew Goss
26 Clarke Street East, Guelph, ON, N1H 1S7
Tel: 519.265.4057




Paypal Verfified Business